(via PhillyTrib.com Patricia Clifford)
Teen members of the Montgomery County Pa. Chapter of Jack and Jill of America, Inc. hosted its first "Montco March Madness Montgomery County Pa. Chapter of Jack and Jill of America, Inc. hosted its first "Montco March Madness Basketball Tournament" on March 1.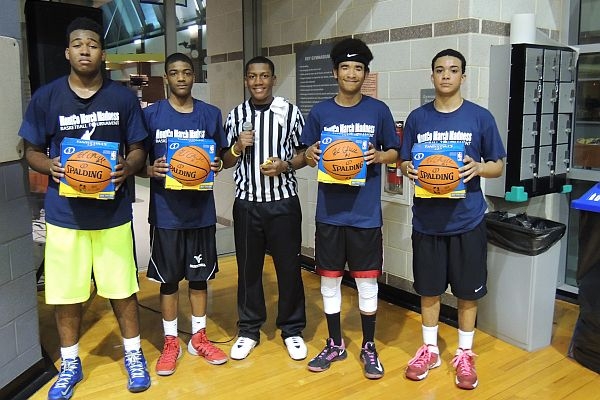 The primary goal of the event was to raise money for charities in the area, such as the Edward Taylor Coombs (ETC) Foundation, in an enjoyable, upbeat atmosphere. The late Edward Taylor Coombs graduated from the chapter in 2010. He was a rising sophomore at Marist College in Poughkeepsie, N.Y. The ETC Foundationwas established in honor of 19-year-old Coombs, an academically gifted and athletically talented young man. The foundation's mission is to provide outstanding scholars and athletes with financial assistance to pursue their higher education goals and reach their full potential.
The tournament was the vision of chapter President Benjamin Gilbert. This year's fundraising chair, Nile Hodges, was given the task of organizing members, ages 14-17, and coordinating the event. He assigned a hard-working, focused team to carry out the tasks at hand. Committee members who did a stellar job were:Madison Harden, Malik Farr, Natalie Hodges, Kyle Mattison, Grant Hodges, Paige Hodges, Justin Watson, Max Sanders and Chelsea Wyche, Faith Brown, Jade Kemp, Tyler Melton, John Parker andMadison Ramsey.
An intergenerational group of more than 200 supporters came out for an evening of tournament basketball, music and socializing for a great cause. Together, the teenagers designed and planned this multifaceted event, which was perfect for the entire family. As the DJ played popular hits, the games were in full swing, with spectators socializing on the sidelines. Proud parents and Jack and Jill family members were thrilled.
Dr. Edward Williams of Wyndmoor remarked, "I haven't seen this kind of mingling and socializing of different ages since I was a kid and families had barbeques together in the park!"
When asked if he was tired and wanted a ride home after sitting in the bleachers for hours watching the games, grandparent Dean Hodges, 81, said, "No, I don't want to leave. This is fantastic!"
While working on this project, chairman Nile Hodges kept everyone focused on the fact that in addition to creating a fun Saturday night activity for their peers, their primary mission was to raise money and serve the community. The event was opened and closed by head-referee, the Rev. Stanford Laws of Cofa Sports, Inc., who donated his time and skills to help. In a moment of silence and prayer, he commended the youths for such a positive outcome.
This was a tremendously positive example of what our African-American teenagers are doing in the community. Although this was the first annual Montco March Madness Basketball Tournament, the chapter succeeded in raising thousands of dollars for charity. Their efforts demonstrated what hard-work, positive focus and commitment to community service can accomplish. Lessons of leadership and servant-hood were also gleaned by this uniting experience. Kudos to the teens of the Montgomery County Pa. Chapter of Jack and Jill of America, Inc. on a creative, inspiring event that demonstrates their commitment to community service!
Have a fantastic week "Out & About" everyone!