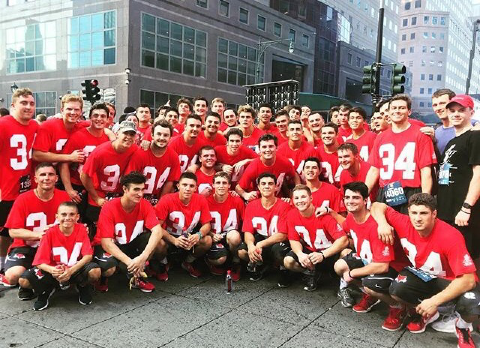 The Marist College men's lacrosse team participated in the 2017 Tunnel to Towers 5K run and walk on Sept. 24. At about 3.5 miles long, the race is slightly longer than a traditional 5K.
The Tunnel to Towers 5K Run & Walk was created to retrace the final steps of Stephen Siller, a New York City firefighter who lost his life on Sept. 11, 2001 after putting on his gear and running through the Brooklyn Battery Tunnel to the Twin Towers.
Tunnel to Towers pays homage to all first responders who made, and continue to make, extraordinary sacrifices in the line of duty.
In honoring the firefighter who died in the line of duty, the Marist athletes also paid tribute to Edward Taylor Coombs, a Marist College rising sophomore, who died in 2011. Edward, who wore the #34 jersey, was a standout on the lacrosse team. His legacy continues on and serves as inspiration for Marist coaches and players alike.
In Edward's honor, the Red Foxes wore matching shirts bearing his number during the run.